Opinion on the AAF:
With the CFB and the NFL seasons both officially concluded, many fans are normally left with a long wait until August to consume their beloved football again. The Alliance of American Football (AAFL) kicked off their inaugural season this past weekend, a league not necessarily built to rival the NFL, but rather serve as an additional source of football the way they believe football should be played.
The AAFL is a much smaller sample of games/teams when compared to the NFL. Only eight teams, ten week regular season, four games per week. With television contracts that will nationally televise a good amount, but not all, of the regular season games this season in order to gain an audience. For me, a very avid, passionate, football junkie — I'm definitely all in with this. I'm a casual basketball fan at best, it's something to watch and enjoy but it's just not football.
The rules of the game are a tad different than what fans are used to, but possibly for the better? They've eliminated kickoffs, the ball is placed on the offense's own 25 yard line. No extra point attempts, you must go for two. To attempt an "onside kick", you have to convert a "4th and 12". You can only blitz up to five men. Also the AAFL has gotten rid of weak tackling calls, they're bringing back hitting to the game of football. The officiating is also different for the better as you're able to challenge no-calls, and listen in on the reasons an official will reverse or withhold a play under review.
Do I think this league can succeed? Absolutely, and I think that it will. Four football games per week is a very managable recipe for success in the normal offseason for the NFL/CFB, and it has enough initial backing and support to possibly compete in ratings against the NBA and CBB. Ultimately of course basketball will win the ratings battle, their foundation is set while the AAFL is one weekend deep.
The question of could this oversaturate football comes to mind, because if this league's tenure is lengthy then we could be looking at nonstop football from August-May, that is if you're only counting NFL/CFB/AAFL because the CFL is played in the Summer months. The AAFL playing four games per week isn't going to give us too much football, but if it was like the NFL and had 32 teams thus playing over ten games per week it'd be different.
Like I said before, the AAFL isn't built to rival the NFL and they don't have intentions to become the "main league". This is something that all football fans should be excited about, I encourage everyone to support the league and give it the attention that it deserves.
Michigan Football:
Here we are, another offseason of blatant failure with our optimism headed into the 2019 season. I've felt this before, it's all far too familiar. Probably because this happens year after year after year and so forth.
Michigan football, at least in the 21st century, is the definition of disappiointment. It never gets any easier to be a Michigan fan.
Lloyd Carr retires after the 2007 season, he was a legend but evidently on an elderly decline. Outsider Rich Rodriguez takes the mantle, massive failure, not a good fit, ruins the culture in Ann Arbor. Brady Hoke, a "Michigan Man" returns to Ann Arbor as he used to be a former assistant for Lloyd Carr, revives the Michigan faithful and has a good first season, but ultimately failed and got worse every season, NEXT!
Jim Harbaugh, the superstar head coach from Super Bowl 47, proven winner on every platform he's been at. He's a turnaround artist, surely he'll restore the Michigan brand to what us fans want it to be in short time!
*four seasons later*
10-3, 10-3, 8-5, 10-3. What is consistent? No wins over OSU, no Big Ten title game apperances, no CFP berth. Jim Harbaugh has made Michigan better, yes. He wasn't hired to make them better, he was hired to win the big game, and bring home a championship. When the lights have shined the brightest, Harbaugh's teams just aren't properly prepared to play.
At Michigan, the OSU game is EVERYTHING. You want to win a Big Ten? You beat Ohio State. You want a playoff spot? You beat Ohio State. You want to be considered a good Michigan coach? You beat Ohio State. You go 11-1 in four consecutive seasons but those losses in all four seasons are all to the Buckeyes? NOT GOOD ENOUGH. It's the most important game on the schedule, no matter what.
Well now, Urban Meyer has retired. The guy who never lost to Michigan has retired. The clock is ticking and we're headed into year five for the Harbaugh era, the time to win was yesterday.
Spare me the preseason hype, I don't want any of it. On a talent spectrum? Harbaugh should have Michigan in the NY6 or CFP ANNUALLY with ease. A program like Michigan has 7-8 built-in wins to set up a good season, 4-5 games that can be considered impressive wins. Harbaugh has had Michigan in the legitimate playoff conversation deep into November twice now, OSU was the dead end of both of those seasons.
I want Harbaugh to be our guy, but I also want a head coach who can win a title.
Harbaugh gave the keys of the offense to new offensive coordinator Josh Gattis in hopes that he'll modernize the offense and utilize the strong arssenal that lies within the skilled offensive positions. Good move, admitting that he needs to adapt his philosophy. Progress is progress.
Only time will tell for Michigan, year after year it's the same mindset, sooner or later one can only hope that one year will be "the year".
College Football is King:
The NFL is great, I love everything about it — I love football in general, and am a huge fan of the NFL. But college football holds a special place in my heart that is unrivaled. No college football is not king when it comes to ratings, revenue, or fans. In MY opinion, college football is about as good as it gets if you like passionate, emotional, intense, exciting football.
This is just how I was raised, without any real rooting interest in the NFL other than Tom Brady. But in the NFL, losing a game isn't nearly as detrimental as it is in college football. Even if it is a detrimental loss? Well that's fine, most of them get to drive home in their Mercedes Benz to their mansion and sleep next to their supermodel wives anyway. Lose a big game in college? Season is ruined and you get to go eat ramen noodles in your dorm room.
Of course both NFL and college football players WANT to win, some more than others, some less than others. I'd say damn near every college player's goal is to play at the next level, they all want to become millionaires to play football. After you declare for the draft and you leave your school, you will never play for anything other than a contract again. It's all about money, and contract negotiations. Football turns into a business, but still entertaining nonetheless.
The crowd environment of an average NFL games does not compare with the average environment of a college football game. Perhaps alcohol has a factor in it. College crowds are crazy passionate, loud, cheerful, on their feet for all four quarters — students have more energy to do so.
This is of course just my opinion, and probably an unpopular one. College football is my favorite sport, the passion to second to none, the intensity is unmatched, and the stakes are higher on a weekly basis.
OBJ to Cleveland:
Last night, it was announced that Odell Beckham Jr "OBJ" was traded to the Cleveland Browns in exchange for Jabrill Peppers and two draft picks.
My initial thoughts on the trade were different than most, but I think that this was an even, fair trade that benefits both sides in ways that their respected teams could benefit from.
The New York Giants would've wanted to keep their star receiver ideally of course, but a top tier WR isn't going to single-handedly lead your team to title contention. Cleveland also knows that, which is why he is being looked at as the finishing touch for this star-studded Browns roster, not as the one man solution.
A first and a third round pick PLUS Jabrill Peppers is good for the Giants. This gives them a plethora of opportunity as far as maybe trading up? Eli Manning is halfway down the cliff, he's done and people should stop pretending otherwise. Potentially trading up for a QB is an attractive concept, but this draft class isn't exactly sexy when it comes to quarterbacks. Although this trade has given the Giants the most draft picks they've had since 2003, so a rebuild could be under works if orchestrated correctly. Allow Eli Manning to crawl through the season, feed your star RB in Saquon Barkley as much as possible, hope for the best, but ultimately set your sights to 2020 and draft a QB. Build a supporting cast and allow a young, talented QB to walk into a nice situation.
Buy Cleveland Browns stock today and do it quick. This offensive roster now features some big time names — Baker Mayfield, Nick Chubb, Kareem Hunt, Jarvis Landry, OBJ, David Njoku, all of whom are 26 years or younger. Landry and OBJ were college teammates, the chemistry is there and will be a good, positive lockerroom atmosphere. The AFC North is wide open, Pittsburgh is collapsing, Cincinnati is weak, and Baltimore is investing in Lamar Jackson who has no real future as a franchise QB. Cleveland has no reason to not win their division, and make the playoffs.
My prediction is an 11-5 season in Cleveland, won't be surprised if it ends up dropping to 10-6, or at worse 9-7. However I look at what this team did in 2018, going 7-8-1 when they were a literal competent kicker away from winning nine, maybe even ten games. Game of inches, the Browns are making the right moves and I expect big things.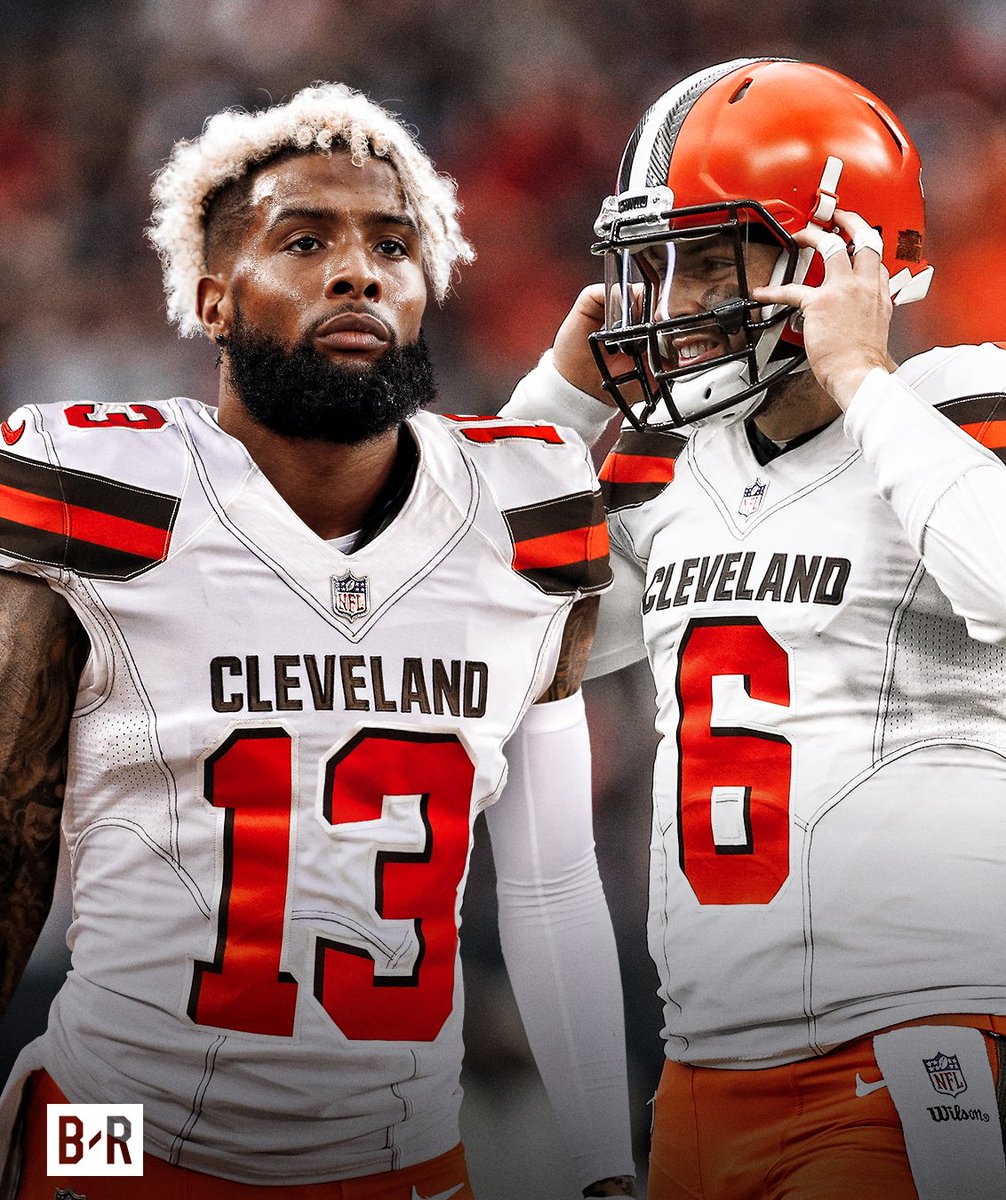 Tom Brady is the GOAT:
This is a topic/debate in which I'm passionate about. I have to acknowledge that it is my opinion, a very popular opinion, but I myself consider it a fact (if that makes sense) — Thomas Edward Patrick Brady is the best quarterback in the history of the sport of football.
Is Tom Brady the most physically talented and gifted quarterback ever? Nope, not even close. There are a good amount of quarterbacks today who have a stronger, raw, throwing arm than Brady did in his prime years.
Lucky for the former Michigan Wolverine, quality quarterbacking isn't defined by a throwing contest, nor is it defined by just physical attributes. Instead, I would say that quarterbacking is defined by a healthy combination of three things: football IQ (pre/post snap reads, audible adjustments, reading defenses, smart movement in the pocket, etc.), physical attributes (throwing arm, quick release, escape ability/speed, etc.), and leadership skills (putting the team on your back, being the ultimate teammate, etc.).
Has Brady had a few lucky bounces? Absolutely, but that's just football. One can make arguments to say that Brady wouldn't be as successful as he is without inheriting Bill Belichick as his head coach. This is where I agree to an extent, but not for the same reasons that other people will say. The typical argument is that Brady is a "system quarterback" who only thrives in a QB-friendly system, this narrative is false and can be easily debunked. Brady is however fortunate to inherit Belichick because Belichick developed and molded him into what he is today. Of course, several other quarterbacks drafted by Belichick over the years have had their chances to do what Brady has done under the same system and they failed to do so — Brady is an extremely coachable football player. If your main argument against Brady is a hypothetical argument then I'm sorry you don't have an argument.
I like a player who has been the best player on the best team six times in his career — the best player on one of the, if not the greatest sports dynasty ever. Not to mention the additional hardware individually, three-time league MVP, four time SB MVP, 14 Pro Bowl selections. Not to mention at age 40, he became the oldest player to ever win a league MVP award. Did I mention that he's going to be turning 42 this August and has plans to play until age 45?
I think that it's worth mentioning that Bill Belichick has only won just a single playoff game without Tom Brady as his team's starting quarterback. There have been seven seasons of Belichick's head coaching career outside of Brady being a starter, 52-60 overall and 1-1 in playoff games in those seven seasons.
Lastly, no quarterback in NFL history has thrown for more yards and more touchdowns. Yes, he has played in more games than many however that's part of the game. You want to break Tom's records? Then you'll have to be more durable than he is.