Discussing LeBron James and the Los Angeles Lakers.
What is wrong with the Lakers?
Since losing LeBron on Christmas Day against the Warriors the Lakers have fallen out of the playoff picture, and they now sit dangeroulsy close to being too little too late to have enough wins to get in. The first problem is they need LeBron to be healthy. A big part of the Lakers' plan is to get big name free agents to pair with their young core. Right now, LeBron is the only big name they have gotten, and if they want to succeed, it falls mostly on his shoulders to make it happen. Before he was hurt, the Lakers were fourth in the Western Conference and right in the thick, and it is evident that he is not at 100%.
The other problem is the chemistry of the team. The whole team was convinced they were getting traded for Anthony Davis a few weeks ago. That can obviously ruin the chemistry. They need to figure that out, and wait for LeBron to get healthy. The only problem is time is running out and there may not be enough time for that to happen.
What to do now that they are not in the playoffs?
3/18/2019
The Lakers are officially going to be out of the playoffs this season. Too many injuries and not enough wins resulted in a lost season. This is not good because LeBron is only getting older. Despite what the narrative on this season would suggest, LeBron still played like he is the best player in the world for the most part. He just seemed a little more human. Brandon Ingram is not going to be back this season, nor will Lonzo Ball. So as of right now, it is about what kind of draft pick they are going to get. Then the foucs shifts to the summer. The question becomes: who can they sign in free agency to help them get back? There are all kinds of big name free agents this year, and they will all be linked to the Lakers at some point. In the big picture, this is not really that big of a deal, the Lakers weren't going to win it all this year anyway, LeBron can rest his body this offseason, and the Lakers can spend big in free agency and they will look different next season.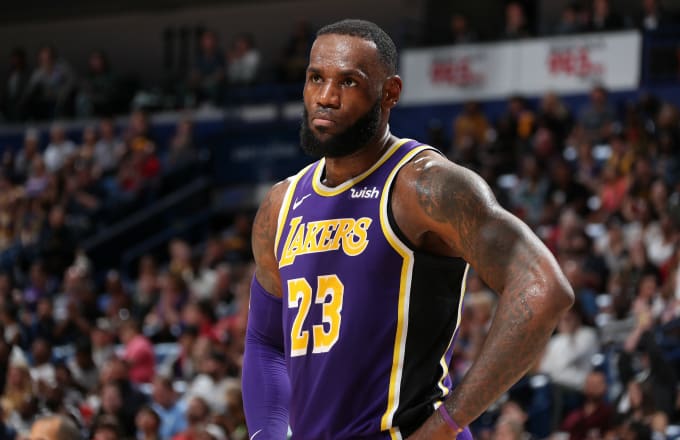 LeBron done for season.
4/1/2019
The Lakers announced LeBron will miss the final six games for the team. For what many consider a down year for The King, he still dominated. He is still a top three player in this league. The rest of these games mean nothing for the Lakers so they might as well rest everyone. Which seems like the plan becuase they are playing a couple of guys big minutes that are not a part of the team's future plans. This is a good thing for LeBron. He finally gets to rest for an offseason after playing until June the last eight years. In a perfect world, the Lakers sign a big name free agent this summer to play with LeBron. He comes back well rested with another star on the team and next season he gets to take it easy and let the other guy do some of the heavy lifting. LeBron and this said player can make a run and be NBA Champs. Let's make it happen, Magic.
What to expect next season?
4/17/2019
Anyone who went in to this season expecting title contention from LeBron should not have a change of heart now. Next season there is an even better chance of the Lakers being contenders if anything. The Warriors are likely to be weaker. Kevin Durant is expected to leave as well as Demarcus Cousins. Klay Thompson could also be on the way out, although that is less likely. If the Lakers could sign any of those guys, their chances of beating the Warriors doubles. Even if they don't they are still looking to sign a big name free agent like Kemba Walker or Jimmy Butler, or try to trade for Anthony Davis. Either way, if they can get that done they have even better odds next season than this season, not to mention you should be banking on the young guys to develop and play better next year, as well as LeBron being healthy for 82 games. Don't waver now. This season might have come up short, but still hold your expectations. LeBron is going to bring them back.
Should Lakers trade young guys for stars?
4/22/2019
As everyone knows, Anthony Davis wanted out of New Orleans at the deadline, and the Lakers wanted him badly. The reported offer for the big man was nothing short of the kitchen sink. It included all of the young guys, (Lonzo, Kuzma, Hart, Ingram) as well as good veteran pieces, (Rondo, Stephenson) and draft picks. That is a lot. Even for Anthony Davis, that might be too much. The trade did not work out in the end, but the youngsters now know that they were expendable. But should they be? All of those guys have a chance to be really good. Anthony Davis is a free agent at the end of next season, where he is free to sign with the Lakers without them being traded away. There really is not any other star that is worthy of the whole locker room being traded away, at least that want out of their teams. Now the Lakers should focus on developing these young guys and signing free agents, not trading for stars at the expense of the young guys. These young guys can get better, Lonzo can be an all defense team guy, Ingram has the talent to score 25 a game if he continues to get better, and Kuzma looks like a star in the making. LeBron is getting older. If all goes right, these guys can be at their best when LeBron is on his way out, and they can continue to win. If that is the plan, then keep them around. And, for the record, that should be the plan.